Monday, May 29th, 2006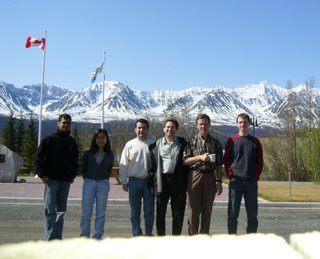 Who: From left, Ashwin Nayak, Debbie Leung, Mike Mosca, your humble squinting blogger, Andris Ambainis with coffee, Patrick Hayden.
Where: Haines Junction (population 789), Yukon Territory, 100 miles east of Alaska. One of the furthest outposts of civilization, surrounded by one of the last pristine wilderness areas on Earth.
When: We arrived here last night, after flying to Whitehorse and then battling heavy traffic (i.e., at least two other cars) for several hours on the Alaska Highway.
What: A quantum computing workshop sponsored by the CIAR (Canadian Institute for Advanced Research).
Why: I dunno, I guess the CIAR has more money than it knows what to do with.
How: You thought they wouldn't have WiFi here?