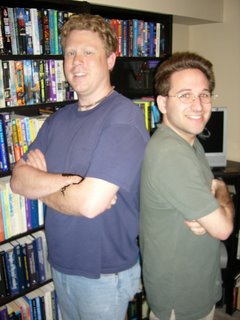 Ever since I arrived at fellow blogger Dave Bacon's house on Tuesday, the Pontiff and I have been tossing around ideas for a joint blog initiative. Finally we hit on something: since we're both neologistas — people who enjoy spending their free time coining new words — we decided to compile a list of the neologisms we'd most like to see adopted by the general population. Without further ado:
shnood: (roughly) an imposter; a person oblivious to just how trivial or wrong his ideas are.
"Were there any interesting speakers at the conference?"
"No, just a bunch of shnoods."
"The magazine New Scientist loves to feature shnoods on the cover."
Note: someone who's utterly contemptible would not be a shnood, but rather a schmuck.
iriterie: a list or compilation of people named Irit.
See the comments on the last post for an example of an iriterie.
extralusionary intelligence: intelligence in one domain that is misapplied in another.
"Bob's a brilliant physicist — I bet he's onto something with his condensed-matter approach to P versus NP."
"No, he's just suffering from extralusionary intelligence."
circumpolitical: So far to one end of the political spectrum that one is actually on the other end.
"Professor Zimmerman mounted a circumpolitical defense of hereditary dictatorship, female genital mutilation, and the dragging of murdered homosexuals through the streets, arguing that we have no right to condemn these indigenous practices of non-Western peoples."
philosonomicon: A philosophical prolegomenon.
Dave's PhD thesis begins with a philosonomicon, as does mine.
high-hanging fruit: the opposite of low-hanging fruit.
"Do you ever think about the Nonabelian Hidden Subgroup Problem?"
"No, that's high-hanging fruit. I like to watch other people jump for it."
napotonin: any substance that makes you want to nap.
"Ohhhh … must've been a lot of napotonin in that calzone … can't work … unnngghhhh"
nontrivia: the opposite of trivia.
"If you're so smart, how come you're no good at Trivial Pursuit?"
"Because I prefer to fill my brain with nontrivia."
In an effort to speed up the adoption of these words by the Oxford English Dictionary, Dave and I hereby ask that every comment on this post correctly use at least one of them. Also, while you're welcome to crack the obvious jokes ("Scott is a shnood," "Dave suffers from extralusionary intelligence," etc.), be aware that we've just preempted them.