Thursday, July 27th, 2006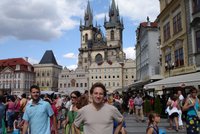 Why do I procrastinate so much on blog posts, even to the extent of not blogging about a trip until well after it's over? Because, while coming up with the ideas (i.e., the jokes) is trivial, writing the connective tissue is a pain in the ass.
Bulleted lists are easier. Expect me to fall back on them more often.
So, Prague. It was nice. Really nice. Nicer than Amsterdam even.
Like a fool, I somehow expected that, since it's been less than two decades since the Velvet Revolution, Prague would still be some sort of backwards city in consonant-intensive Eastern Europe, grateful for any tourists it could get.
I dramatically overestimated how long it would take for a former Communist stronghold to become Disneyland, a.k.a. the college backpacker capital of the world.
I'm told there are two reasons for this transformation: (1) castles and cathedrals that weren't completely reduced to rubble by WWII, and (2) cheap beer (less than $1 a pint). Of course, factoring in the cost of airfare and hotels, you'd have to drink hundreds of beers to save money. But we are talking about college backpackers.
Have you heard of Jan Hus? A century before Martin Luther, he was already pulling the same shtick: condemning the selling of indulgences, advocating a return to Christ's original teachings, etc. Of course the Catholics burned him at the stake. This led to the Hussite Wars, which I guess I would've learned about had I stayed in high school long enough to take AP Euro. Anyway, there's a big statue of Mr. Hus in Prague's Old Town Square (you can see a photo of it on Hus's Wikipedia page). Get this: the statue is glaring angrily at a nearby Catholic church. As you might have gathered, I've never been much of an art critic, but I think I more-or-less understood what the sculptor was getting at.
I also saw the biggest telescope in the Czech Republic.
Oh, yeah: there was a conference. It was about complexity or something.
Seriously, it was an excellent conference, except that the lecture room wasn't air-conditioned. As a direct result, I can remember very little of the talks. (Is it better to contribute to global warming or to experience it?)
If you're ever in Prague, definitely visit the Museum of Communism ("back-handed bribes accepted in our gift shop"), especially if you've never been to a Soviet-bloc country before (as I hadn't). Learning about the 19th century's worst idea on a North American campus is different from learning about it on Wenceslas Square.
Unfortunately, when I visit European cities like Amsterdam and Prague, I can never completely forget that I'm walking through a big murder scene. ("Thank you, waiter, for bringing me my chicken! And thank you, as well, for not deporting me to Theresienstadt or shooting me into an open pit! When you get a chance, could you maybe refill my water?")
Why does Prague have one the best Judaica collections in the world? Because the Nazis shipped their loot there, expecting to open a historical museum about the human bacillus they had successfully eradicated. (There is such a museum today, but run by the bacillus itself.)
Speaking of which, have you heard of the Golem? It was a clay robot allegedly built in the 1500's by Rabbi Judah Löw of Prague. This robot, you see, went rampaging around, causing random destruction, until the townspeople agreed to halt their anti-Semitic attacks. (A bit like the IDF in Lebanon.) According to legend, the Golem's remains are still in the attic of Prague's Old-New Synagogue, and can be reanimated if necessary. The attic is closed to visitors, but the guidebooks say that recently some great rabbi was allowed to ascend to the attic, and "returned white and trembling." (As a friend of mine remarked, they forgot to mention that the old fellow was also white and trembling before he went up the attic.) In any case, the Golem was apparently out of service when most needed.