Wednesday, March 29th, 2006
I have good news and bad news, though neither of them has much to do with biting vaginas.
The good news is that Luca Trevisan — complexity theorist extraordinaire, member of my thesis committee at Berkeley, occasional commenter on Shtetl-Optimized, world-renowned for his pronunciation of the word "pseudorandom" — has recently started a blog. Right now Luca is filing travel reports from Beijing, where apparently the food is excellent.
The bad news is that, according to Luca, Shtetl-Optimized has been blocked by the "Great Firewall of China"! Even though Luca congratulates me on my "accomplishment" of being censored in China — an accomplishment not shared by a certain unnamed competitor — this is actually a serious blow to me. See, I've long felt that the 1.3 billion citizens of the Middle Kingdom represent the single most promising growth market for the complexity/physics/Jewish-humor/biting-vagina weblog industry. (Oh, you think the Chinese can live without Jewish humor? You might as well say the Jews can live without mu shu and crunchy noodles!)
But what makes this ban by Beijing particularly unfortunate is that, just today, I was planning to blog about my contempt for the moronic pseudoscience of Falun Gong. But that's only a taste of what I've been hoping to tackle in the weeks ahead — including the absurd pretensions of the Dalai Lama (what's with that robe, dude?), the benefits of collectivized agriculture, the impudence of the Tiananmen Square traitors, and of course, my profound respect for the awesomest person ever: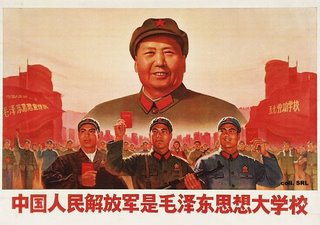 If you ask me, Marx, Lenin, and Stalin might have paved the way, but Mao surpasses them all as the true voice of the proletariat. Down with capitalist-bourgeois idealism! Reunite Zhōngguó Táibĕi with the motherland!
And while I'm at it, here another experiment, this one aimed at increasing the number of comments on this post: biting vaginas biting vaginas biting vaginas biting vaginas biting vaginas