Sorry for the long delay; I'm recovering from a cold. Thankfully, nothing like my Canadian-muskox-strength cold in October, but still enough to keep my brain out of service for most of the week. On the positive side, I now have a week's worth of websurfing to share with you.
What's as fast-paced as Tetris or Pac-Man, playable for free on the web, and willing to tell you whether you harbor hidden biases against blacks, gays, women, or Jews? Why, the Implicit Association Test, developed by psychologists Mahzarin Banaji, Tony Greenwald, and Brian Nosek. If you haven't played it yet, do so now — it's fun! Do you take longer to match African-American faces with words like "peace," "love," and "wonderful" and Caucasian faces with words like "bad," "awful," and "horrible" than vice versa? Yes, if you're like 88% of white Americans and — interestingly — 48% of black Americans. (Philip Tetlock, quoted in this Washington Post article, comments that "we've come a long way from Selma, Alabama, if we have to calibrate prejudice in milliseconds.") While I'm ashamed to be part of that 88% statistic, I'm also relieved that, even at an involuntary, subconsious level, I apparently harbor no bias at all against Asian-Americans or gays.
While browsing Wikipedia (Earth's largest procrastination resource), I came across the following "Freedom House" world map, which labels each country as "free," "partly free," or "not free" depending on how it scores on various indices of voting rights, free speech, etc.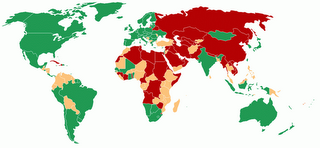 I have one beef with this map: I think there should be a little red dot over Berkeley, California.
On an equally important note, while reading the Wikipedia entry for bear (don't ask), I came across my favorite paragraph in the whole encyclopedia:
In a chance encounter with a bear, the best course of action is usually to back away slowly in the direction that you came. The bear will rarely become aggressive and approach you. In order to protect yourself, some suggest passively lying on the ground and waiting for the bear to lose interest. Another approach is to constantly maintain an obstacle between you and the bear, such as a thick tree or boulder. A person is much more agile and quick than a bear allowing him or her to respond to a bear's clockwise or counter-clockwise movement around the obstacle and move accordingly. The bear's frustration will eventually cause disinterest. One can then move away from the bear to a new obstacle and continue this until he or she has created a safe distance from the bear.
Lastly, Reuters reports on an interview in which Bill Gates discusses why he hates being so rich. My mom tells me that, when I visit Microsoft Research a few weeks from now, I should help ease Gates's burden by demanding immediate reimbursement for my travel expenses.