I'm convinced that the following diagram means something precise: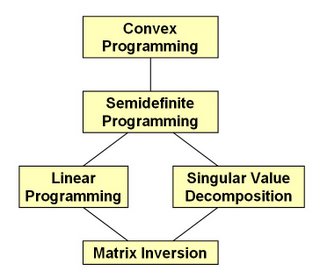 My question is, what does it mean?
Intuitively, it means that if your software package can solve SDP's, then you can easily use it to solve LP's; if it can solve LP's, you can easily use it to invert matrices, and so on, but not vice versa. But it can't mean (for example) that SDP's are harder than LP's in the usual complexity theory sense, since both problems are P-complete!
Maybe it means that, if your axiom system is strong enough to prove SDP is in P, then it's also strong enough to prove LP is in P, and so on — but not necessarily vice versa. But how would we show such a separation?
(Sorry, no money this time. We'll see if it makes any difference — I'm guessing that it doesn't.)