I arrived Friday morning in an exotic, faraway "Backwards-Land," where mammals have pouches, vegemite is considered edible, toilets should in principle flush the wrong way, and Christmas trees adorn a tropical summer landscape.
I'm here to visit the University of Queensland physics department, which is probably best known as the home of the world's longest-running experiment: a glob of congealed black tar that's been dripping through a funnel since 1927, at the rate of about one drop per decade. This important experiment recently won an Ig Nobel Prize in Physics, causing my colleague the Quantum Pontiff to regret not taking a photo of it while he had the chance. In perhaps the greatest advance in Catholic-Jewish relations since John Paul II prayed at the Western Wall, today Shtetl-Optimized proudly presents His Quantum Holiness with the following token of goodwill.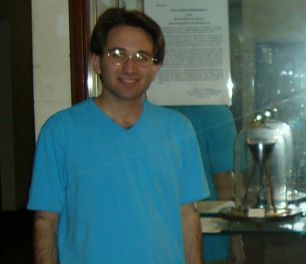 But there's more to Australia than funnels of congealed black tar. There are also strange and wonderful birds with that wander around the campus eating people's garbage. Birdwatching is not a pastime I've ever wished on anyone, but I think this one is an Australian White Ibis: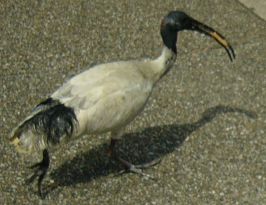 Finally, Australia is also home to terrible race riots, which erupted yesterday after a Lebanese gang apparently attacked two white lifeguards. I don't have anything amusing to say about that.